Online Homework Consultation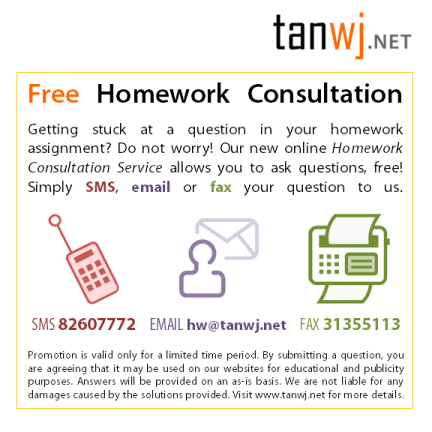 As part of our online private tuition for students, we are now providing a free online homework consultation service.
Too good to be true?
Your eyes are not playing any tricks with you. During this promotional period, our online homework help is completely free. We are currently in the process of developing a full homework help website and would like to find out the response level.
Simply send us your homework problem via SMS, email or fax. Remember to indicate your name in your message. If you are sending your question via fax, do include your email address so that we are able to reply to your question in the shortest time possible.
Sorry, we don't do your homework for you.
While your homework questions can be answered in the comfort of your own home, please take note that this is not a homework-solving machine. As manpower is limited on our side, we can only provide you with partial solutions, hopefully clearing your doubts. We will try to explain our solution as clearly as possible. If you are still unclear, simply hit the Reply button.
Subjects
O-Level: Mathematics, Additional Mathematics, Physics
A-Level: H1/H2 Mathematics, H1/H2 Physics
IB: SL/HL Mathematics
If you have questions from other subjects, we will try our best to find you an answer.
Terms and Conditions
This promotion is available for a limited time period. By submitting a question, you are agreeing that it may be used on our websites. Answers will be provided on an as-is basis, where tanwj.net accepts no responsibility for any damages due to the solutions provided.